Ice Cube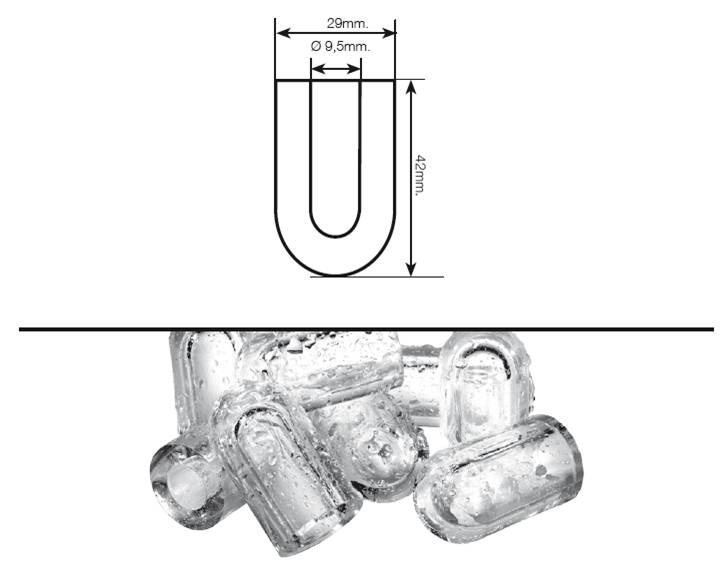 General Features
Just ideal! The best cube our drink and our ice machine can get!

Large volume and finger sized cubes for efficient cooling with maximum heat transfer in the hottest of ambient temperatures.

The padel machine, ICE TECH PS is fully electro mechanical controled with no jets or injectors powered by a pump making your ICE TECH PS
machine extremely reliable at toughest water conditions.

The high grade foodsafe stainless steel and superior densitity isolation will ensure quality with and optimized energy consumption.
Range

Technical Features / Operating Limits
Ice Cube
20gr. adjustable soft & longlasting.
Body
AISI 304 Stainless Steel.
Injection System
Paddle system: The ICE TECH PS machine are unaffected by lime or bad water. No pump and no spray.
Electromechanic Controls
Machines are timer an thermostat operated. Simple, easy to understand an service. High reliability and low spare parts cost.
Electromechanic Controls
The ICE TECH PS don´t have thermostat and are electronics-free machine.
Tropicalized Machines
Classe T
Range
Air Temperature: 5 – 40 ºC
Water Temperature: 5 – 35 ºC
Pressure: 0,7 – 6 bar
Ice Production Capacity
Kg/24h at ambient temperature 15ºC, Water temperature 10ºC
Certification
ISO 9001, CE
Others
Refrigerant R452A & R290
Water inlet connection 3/4" Gas
Drain 20mm. connection.
Single phase input 220V–50Hz. / Optional 220V-60Hz.
Installation Scheme / mm.

Model
Ice Cube
Condensation
System
Production
Kg. / Day
Storage
Kg.
Maximum Power
Input W

WIDTH x DEPTH x HEIGHT
Dimensions mm.
ICE TECH PS 22 R290
Finger-ice
Air
Water
22
24
6
6
287
287
401x 506 x 643
ICE TECH PS 22 PLUS R290
Finger-ice
Air
Water
22
24
12
12
287
287
401 x 506 x 698
ICE TECH PS 32 R290
Finger-ice
Air
Water
31
33
12
12
293
293
401 x 506 x 698
ICE TECH PS 42 R290
Finger-ice
Air
Water
38
40
12
12
421
421
401 x 506 x 698
ICE TECH PS 52 R290
Finger-ice
Air
Water
48
51
25
25
550
550
513 x 557 x 811
ICE TECH PS 62
Finger-ice
Air
Water
55
60
30
30
650
650
593 x 557 x 934
ICE TECH PS 82 R290
Finger-ice
Air
Water
75
81
37
37
775
775
673 x 557 x 984
ICE TECH PS 122
Finger-ice
Air
Water
122
130
50
50
800
800
843 x 557 x 984
Ir al inicio de la pagina