If you have come this far, it is because ice is one of the basic products in your business and you serve it daily.
Any detail is important to achieve customer satisfaction, so choosing the correct ice machine is an absolute necessity.
In order not to fail in the choice, we put together a comprehensive guide for buyers of business ice machines.
Some of the questions you should ask yourself before choosing an ice machine is:
What kind of ice do you need?
What are you going to use it for?
How many kg of ice do you need per day?
Different Types of Ice from Ice Tech
Gourmet ice cubes
Specifics:
Pure, transparent and crystalline ice, without holes
Perfect to use in cocktails and different drinks
Ice cools without water in the glass
Our machines create ice cubes in different sizes
This ice is perfect for:
Restaurants
Pubs
Hotels
Nightclubs
Cocktail bars
The solid gourmet ice cubes cool the drink slowly and without watering it, so that they retain all the flavour. Thanks to its solidity and the crystalline appearance of the cubes, many locals and restaurants prefer it to serve more attractive drinks and impress customers with artisan drinks and quality cocktails.
Ice Tech SS ice cubes are solid, crystalline and odourless.
They can be chosen from a wide variety depending on the application they are going to have:
The M cube has been designed with the utmost delicacy, it is our most elegant ice, with the reliability and robustness of the SS models.
The cube L is characterized by being a 40gr gourmet ice with a differentiating design that adapts to modern restaurants.
The XL cube is our largest ice, specially designed for the Night Club market.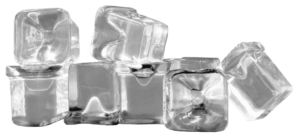 You can find all the ice machines at the following link: Gourmet ice cubes.
Hollow ice cubes
Specifics:
Cylinder-shaped cubes with a central hole
Simple and very versatile handling
Very reliable and durable machine
Designed to produce ice in the most adverse conditions of water quality and temperature
This ice is perfect for:
Traditional bars
Coffee shops
The shape and dimensions of the ice cube that is produced by the PS ice machines are designed to obtain a good productive balance.
As discussed in the specifications on our website and product dossiers, PS machines are prepared so that production never stops, since they are tested under very adverse conditions.
Hollow ice cubes are widely used in bartending businesses.
You can find this ice machine here: PS Ice Machine.
Dice Ice Cubes (Half / Whole)
Specifics:
Ideal ice for fast food and mass consumption businesses
Chills drinks at high speed
Dispensable and automatic ice
Ideal for soft drinks and carbonated drinks
Our machines produce half dice and full dice
This ice is perfect for:
Quick service / self-service restaurants
Convenience / multi-service stores
The most differentiating thing about these ice cubes is that they cool drinks in a very short time thanks to their dice shape.
The machines that generate this type of ice cube are excellent for establishments that consume large amounts of ice, such as fast-food restaurants (organized catering), in which, usually, the users themselves put the ice in their drinks.
In addition to this, the cleaning of these machines is agile and simple.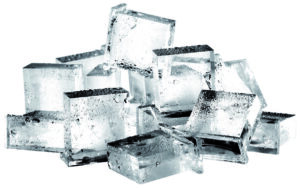 You can find this ice machine here: FD / HD Ice Machine.
Nugget Ice Cubes
Specifics:
Nugget-shaped cubes
Moisture content (10%)
Compact texture
This ice is perfect for:
Quick service / self-service restaurants
Convenience / multi-service stores
Health centers
Cafeterias and dining rooms
This type of ice is ideal for mixed drinks, usually served in wide glasses. It helps to mix the flavours of the drink without watering it or spoiling it.
In addition, thanks to that 10% humidity, drinks are cold for longer.
It's hard ice on the inside, but soft on the outside.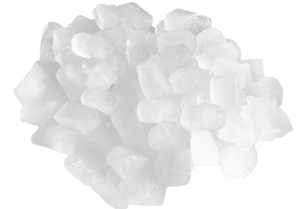 You can find this ice machine here in our GRN range: Nugget Ice Machine.
Crushed ice
Specifics:
Crushed ice
Cools at high speed
Temperature from 0ºC to -1ºC
This ice is perfect for:
Supermarkets
Transport of fish
Fruits and vegetables
Food exhibitors
Health & Wellness
At Ice Tech we have two ranges of products that produce granular ice.
The CD Range produces Diamond ice, designed for cocktails.
The GR range produces granular ice, which is widely used in fresh food displays in supermarkets, restaurants serving prepared meals, and seafood preservation…
The GRF range produces Chip ice, with 20% humidity, perfect for the food sector, hospitals, laboratories, or spas.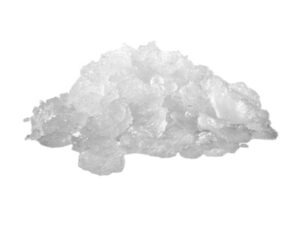 Flake ice
Specifics:
Very cold and dry ice flakes
2% humidity
Temperature of -7ºC
2M3 equals 1 MT of ice
This ice is perfect for:
Food industry
Transport
Grocery stores and markets
Construction
Sanitation
The ice produced by SC ice machines is crushed ice that cools at high speed and melts slowly.
This range of ice is the most common for cooling perishable foods.
Its usual use is in the fishing industry, in food processing, fish farms, fish markets, sanitary facilities and agriculture, among other sectors.
The machine produces large quantities of crushed ice, in addition to being built with high quality materials so that maintenance is reduced to a minimum.
You can find this ice machine here: Ice Machine SC.