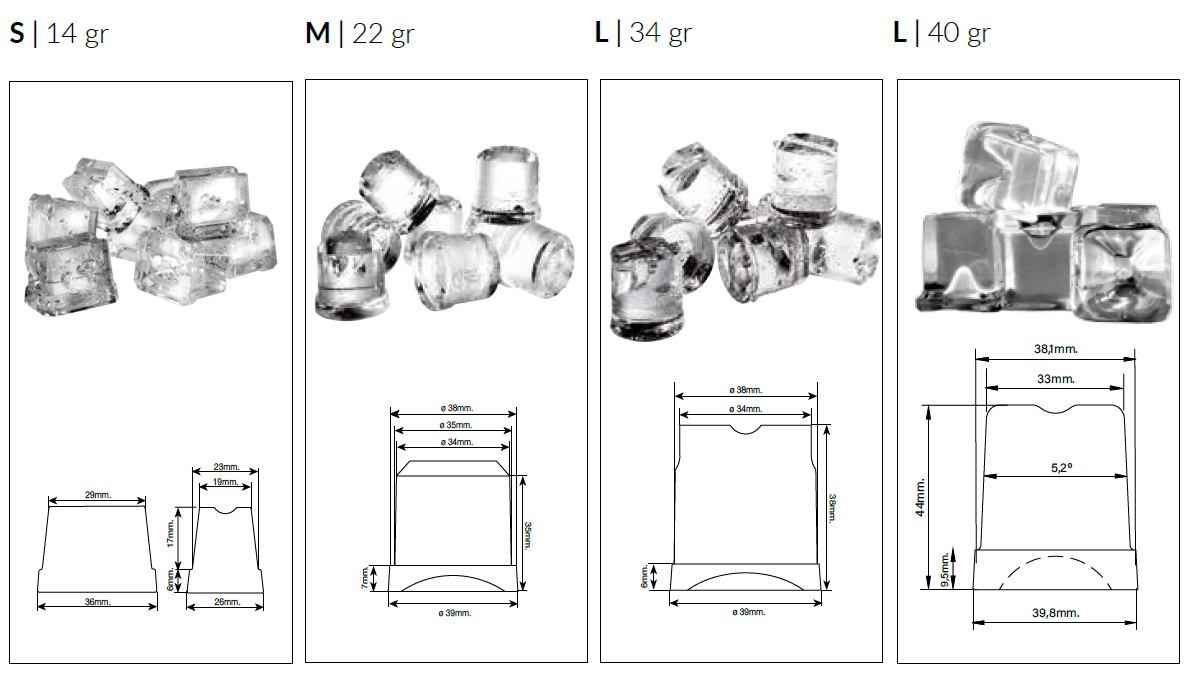 General Features
ICE TECH SS series are designed for the hospitality industry: bars, restaurants, pubs... incorporating innovative features.
ICE TECH SS gourmet full ice cube is the most desired ice cube either for the professional or consumer. Ideal to be used with soft drinks and spirtis.
ICE TECH SS ice cubes melt very slowly, allowing customers to enjoy cooled drinks longer.
AISI 304 Stainless Steel external high quality finishing with integrated door improves machine cleanliness.
HCFC free foam injected polyurethane for outstanding insulation, ICE TECH SS,machine will preserve the consistency and the quality of the ice
produced, longer than any other machine.
All parts in contact with water have been designed in order to minimize their friction and to ensure maximum surface tension, reducing substantially
the sound level.
Range

Technical Features / Operating Limits
Ice Cube
S 14gr. / M 22gr. / L 34gr. & 40gr.
Body
AISI 304 Stainless Steel.
Spray System
With special flexible spray nozzles ICE TECH patented and designed to prevent the calcareous buildup.
Electromechanic Controls
Machines are timer an thermostat operated. Simple, easy to understand an service. High reliability and low spare parts cost.
Switch
External On/Off switch.
Tropicalized Machines
Classe T
Range
Air Temperature: 5 – 40 ºC
Water Temperature: 5 – 35 ºC
Pressure: 0,7 – 6 bar
Ice Production Capacity
Kg/24h at ambient temperature 15ºC, Water temperature 10ºC
Certification
ISO 9001, CE
Others
Refrigerant R452A & R290
Water inlet connection 3/4" Gas
Drain 20mm. connection.
Single phase input 220V–50Hz. / Optional 220V-60Hz.
Installation Scheme / mm.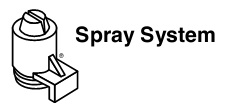 Model
Ice Cube
Condensation
System
Production
Kg. / Day
Storage
Kg.
Maximum Power
Input W

WIDTH x DEPTH x HEIGHT
Dimensions mm.
ICE TECH SS 25 R290
S
Air
Water
22
24
6
6
360
360
350 x 475 x 595
ICE TECH SS 35 R290
M, L
Air
Water
32
34
15
15
400
400
435 x 605 x 695
ICE TECH SS 45 R290
M, L
Air
Water
43
45
15
15
450
450
435 x 605 x 695
ICE TECH SS 60 R290
M, L
Air
Water
62
65
30
30
460
460
515 x 645 x 840
ICE TECH SS 80 R290
M, L
Air
Water
82
86
40
40
720
720
645 x 645 x 870
ICE TECH SS 135 R290
M, L
Air
Water
134
136
60
60
1150
1150
930 x 565 x 915
ICE TECH SS 150 R290
M, L
Air
Water
153
158
MODULAR
1500
1500
775 x 625 x 805
ICE TECH SS 400
M, L
Air
Water
380
380
MODULAR
3300
1321 x 638 x 978

Supplement



ICE TECH CRUSHER




-



-

Capacity Kg. / Min.

3



1



150



180 x 330 x 320
Ir al inicio de la pagina